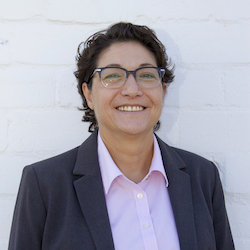 Yolanda A. Facio is an experienced entrepreneur who has started, built, and operated small businesses in Phoenix for 25 years. Yolanda served as CEO of Custom Architectural Woodwork, Inc., a family-owned custom commercial architectural millwork company. She also spent 11 years as Founder/Owner-Operator of a Porsche-only service boutique in central Phoenix.
After selling her stake in the automotive business, she successfully built a web design and development business. During that time, she participated in several programs at Arizona State University including as a Mentor in the Venture Devils program, as a facilitator at Estrella Mountain Community College for the 5-week Poder entrepreneurship program, with the Cisco Innovation Challenge, and with the Kauffman Inclusion challenge where she designed and executed workshops for women and minority business owners as well as supporting High School entrepreneurship programs throughout the valley.
Yolanda currently teaches small business courses at Glendale Community College. She is a Phoenix native and holds a Bachelor of Interdisciplinary Studies in Business and Communication from Arizona State University.