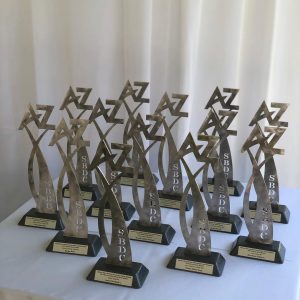 Escape Rooms Mesa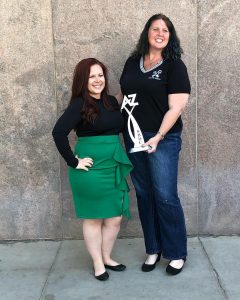 Escape Rooms Mesa was founded by Danielle and Jason Tomerlin in 2016.  Danielle spontaneously leased a space for her own Escape Room after only playing three escape rooms in town with her husband Jason.
The business started by maxing out a low limit credit card. It was a slow start as escape rooms were new and most advertising was simply spent educating the public that such games even existed. About a year later, after some steady growth, Danielle put in an offer to purchase the building the escape rooms were leasing. This is where the SBDC came in.
Chase Bank insisted that they speak to Katie at the SBDC about their business and get information about SBA loans. While buying the building was important, it was equally important to have Katie on their side.
"I didn't realize how helpful and nice it was to talk to someone about my business that wanted us to succeed as much as we did. Katie and the SBDC had a different way of thinking and leveraging assets, staff, and capital that I wouldn't have considered alone."
Since beginning their work with the SBDC, Escape Rooms Mesa has gone from a small 3 room facility, to the largest Escape Room complex in the United States. They started with 1 employee, had 5 when they came to the SBDC, and now have over 20! They also have branched out into offering franchises, and have two that are up and running. In 2019, they also began leasing space at the Renaissance Fair.
Danielle is one of my favorite clients! She is funny, smart, driven, and a joy to work with. She comes to every meeting prepared, with her homework completed, and ready to take on the next challenge. She has also been a wonderful asset to our mastermind group. She brings incredible insight and focus to each meeting. I look forward to seeing her each month and love our meeting days!" — Katie Boddy, Maricopa SBDC Business Analyst
JAG Construction, LLC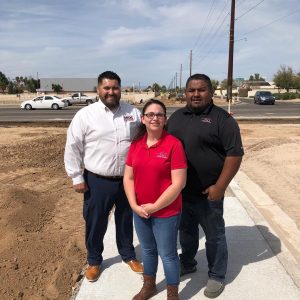 Noel Guevara came to the SBDC in 2016 with the idea of opening his own business. His employer at the time had tremendous success and was not interested in growth and expansion. Noel however, was eager and strived to create more opportunities for his employer. He determined that in order to grow professionally he would have to go out on his own. During his time with his employer, he met several industry partners that would vocalize their appreciation for his work and commitment to professionalism. They often said that if he ever went out on his own to let them know and they would help him out. In 2016, Noel decided that it was time to act. He met with Maricopa SBDC Business Analyst, Mike Pineda and completed a business plan, filed for the LLC and began the capital formation process. Noel was awarded a small business loan and began to pursue contracts. Noel recorded revenues of over $300K in his first year of business. He also started with  five employees. In 2018, he will see over $2 million in revenues and currently employs 23 full time employees. Noel is the epitome of a success story in that he not only followed his dreams but prepared himself for the growth that he has experienced. Noel was able to overcome the first year obstacles that most business owners face. Noel saw a profit year one which was very impressive.
"The SBDC was instrumental in providing guidance and vital resources that assisted me in launching my business. My success is due in part to the expertise provided by this organization. I am extremely grateful for the SBDC and the time and resources they provided."
"Noel has continued to impress me with the knowledge and fortitude he demonstrates. Noel exemplifies what it means to be prepared and ready for the challenge. His experience and drive make him a business owner to watch moving forward." — Mike Pineda, Maricopa SBDC Business Analyst
Swingin' Safari Mini Golf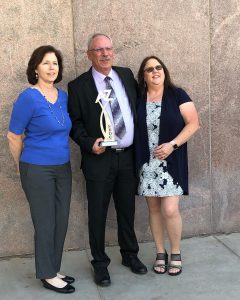 In July 2017, Paula Wittekind assisted David and Debbie Lake with a review of their business plan narrative and provided certain feedback on both the narrative and financial projections of the document. During the business plan review process and after a preliminary search, a potential intellectual property issue was identified related to the original name selected for the business. After sharing Paula's findings, the client decide to change the business name to Swingin' Safari Mini Golf.
As Debbie and David prepared for the launch of their business, we worked on many different areas of business development. Related to building their staff, Paula provided guidance related to contractors versus employees, as they were originally planning to bring staff on under a contract basis. Paula provided guidance on the new Arizona minimum wage and paid leave requirements we worked on developing their employee handbook and Paula provided them with an on boarding outline to guide their hiring activities. Debbie and David were not happy with their current accountant and request referrals to new resources, which were provided.
During counseling Paula recommended both the SBA loan clinic and the SBDC payroll and tax training program sessions, which they attended to increase their knowledge, as they start funding and plan for the opening of their business.
The client successfully launched their business in May 2018 with the ribbon-cutting celebration. Since opening, they have featured in several media outlets including Channel 3, Channel 10, The New Times, Savvy Shopper Channel 15, San Tan Sun News and identified in the Arizona Republic in their "Top 10 Things To Do In the Summer".
"We were introduced to Paula and SBDC through the SBA when we first started out on the journey to open a business. Her insight and guidance in helping us to complete our business plan was instrumental in helping us get our loan. The class on accounting was extremely helpful and we gained the knowledge we needed and setting up new employees. We are taking advantage of many referrals Paula has given us as well. We feel the SBDC is a partner in our success, and we are very grateful to them and to Paula."
"It has been a pleasure assisting Debbie and David as they work to bring their vision for Swingin' Safari Mini Golf to life. They are committed to offering a unique, fun experience for customers of all ages and are becoming a part of their local community." — Paula Wittekind, Maricopa SBDC Business Analyst