"Creating an Entrepreneurial Mindset, One Student at a time"
Congratulations to the Innovation Team for winning the 2019 EMCC Innovation of the Year: Dr. Sylvia Ong, Business Institute Program Director; Business Faculty, & Entrepreneur/DECA Club Advisor; Dr. Elizabeth (Liz) Cantú, Communication Faculty; Ms. Yolanda A. Facio, Director, Community Entrepreneurship of Entrepreneurship + Innovation at Arizona State University; Mr. Frederick W. Lee, Adjunct Faculty-Occupational Education; Mr. Thomas Schumann, Executive Director, Center of Entrepreneurial Innovation; Mr. Daniel M. Pineda, SBDC Analyst, Small Business Development Center; and Mr. Michael Mosley, Student & President of the Entrepreneur/DECA Club.
This innovation will move forward on behalf of the college for the 2018-2019 District-wide Innovation of Year selection to be announced at the Maricopa Community Colleges Innovation of the Year Awards Program Reception on Wednesday, April 10, 2019. The recipient of the District-wide Innovation of the Year will receive the Dr. Paul M. Pair Award of $2,000 to be used to further the innovation.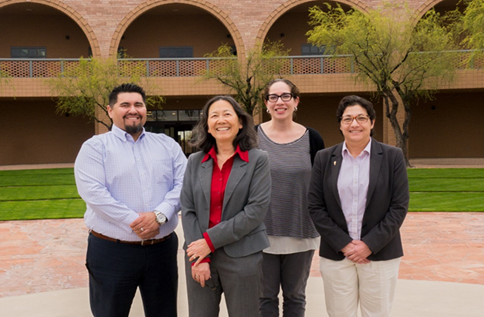 Innovation Executive Summary:
Entrepreneurial mindset "is the attitudes, skills and behaviors that students need to succeed… [including] initiative, risk-taking, flexibility, adaptability, creativity, innovation, critical thinking and problem solving." https://entrepreneurship.msu.edu/the-entrepreneurial-mindset)
The U.S. lacks skilled and educated workers to keep up with the rapid growth of science, technology, engineering, and math (STEM) enterprises (American Association for the Advancement of Science, 2001). Underrepresented minorities, even though a growing segment of the U.S. workforce, are largely underrepresented in STEM careers due to limited access to education that keeps them from entrepreneurship and technology fields once they enter them. As a Hispanic Serving Institution, Estrella Mountain Community College (EMCC) attempts to offset these trends by fostering an entrepreneurial mindset through a multipronged approach of partnerships with Arizona State University, the Center for Entrepreneurial Innovation, and the Small Business Development Center; and offering Small Business Management Certificates and an Entrepreneur/DECA Club.