Ninteen women owned ventures submitted for the opportunity to pitch at the InnovateHER competition June 1. The SBA in collaboration with ASU, E+I, Maricopa SBDC, CO+HOOTS Foundation and Women Who Startup teamed up to support an opportunity for 1 venture to go to the National competition. Seven finalists were selected to pitch at the community event held at the ASU Downtown Campus in front of an all star entrepreneurial community panel.
Ventures will be judged on three major criteria:
Having a measurable impact on the lives of women and families
Having the potential for commercialization
Filling a need in the marketplace
The seven ventures that pitched were; Neck Up Check Up, She's Trending, VitalShip, GraphLock, Evelyn Ford, IBV (I've Been Vetted), and ElderSense.
The winner was Mallory Dyer, CEO of GraphLock, however, it was a close second with PK Fields, CEO of ElderSense. The judges scores where within .01 of a point. As a result the judges wanted to recognize the amazing potential in both ventures and decided to leverage the generosity of Co-Hoots Foundation to award a judges choice winner, awarding Elder Sense with the year long CoHoots membership providing her with the opportunity to access all of the resources that community has to offer.
Mallory Dyer, CEO of GraphLock will be submitted to a national pool, and then the top 7 ventures will be asked to pitch on a national stage in Washington D.C. and the winners will be awarded $70,000 in grant funding. ASU E + I has offered to cover the travel if our representative is selected for National.
GraphLock is an advanced scientific and graphing calculator app with a patent-pending Lockdown Mode. Our Lockdown technology keeps students from using other features on their device, meaning: no texts, no calls, no cheating! The problem is, students and parents are required to purchase an expensive and outdated calculator for STEM courses in both high school and college, which cost over $100 each! This makes learning too expensive for most and reinforces inequality in the classroom. GraphLock's mission is to bring equity to STEM education and make it more accessible to all students.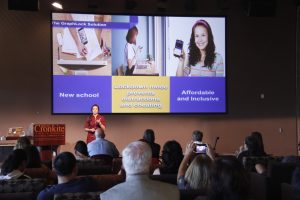 Mallory Dyer – CEO, GraphLock Inc.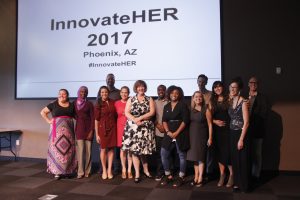 All seven ventures shown with business partners and or spouses.

Pitch winner and runner up shown with collaborative sponsors and judge:
Left to right Mallory Dyer, CEO GraphLock – venture pitch winner; Jenny Poon, CEO Co+Hoots Foundation – sponsor; Kristin Slice, Business Analyst and InnovateHER lead, Maricopa SBDC – sponsor; Shivani Dubey, SBA Arizona District Office, Deputy District Director and event MC –sponsor; Robin Bramman, CEO Brandtini & City Leader Women Who Startup Basecamp Phx- sponsor; PK Fields, CEO Elder Sense – venture pitch runner up; Kathy Sacks, CEO COLEAP, venture judge; Susan Halverson, ASU E+I, Assistant Director, Community Entrepreneurship – sponsor
ABOUT THE COLLABORATORS FOR INNOVATEHER 2017 Arizona
ASU Entrepreneurship + Innovation ASU has become known for its unique and effective approach to growing an entrepreneurial enterprise within a public university system. Here valuing entrepreneurship means more than a class or program; it is a mindset that is woven into the fabric of the university, ermeating every activity. ASU Entrepreneurship + Innovation (E+I) leads programs and offers resources to support students, faculty, alumni, staff, and community entrepreneurs.
Learn more at https://entrepreneurship.asu.edu
MARICOPA SBDC The Maricopa Small Business Development Center Network (SBDC) provides advising, training, online courses and resources for businesses throughout the valley. Our 8 conveniently located Centers assist business people like you in every aspect of business development and management. Our mission is to help build Arizona's best businesses and strengthen the economy by assisting businesses like yours.
Learn more at: http://www.maricopa-sbdc.com
CO+HOOTS FOUNDATION
The CO+HOOTS Foundation, a nonprofit 501(c) 3 organization, was founded in 2014 as the nonprofit catalyst with the mission to create a community that is equitable, innovative and thriving by providing opportunities for underrepresented communities through ongoing education, scholarships and partnerships. The CO+HOOTS Foundation is the flash point of innovation and a hub of connection in Phoenix; providing entrepreneurial, business and technology education to bright young minds and helping entrepreneurs to flourish, to connect with their communities and to change the world with us. The CO+HOOTS Foundation has hosted the largest, most diverse Code Day in the nation, has launched the most individualized women owned business scaling program in Phoenix and has brought together dozens of entrepreneurs to learn from and lead one another.
Learn more at: https://cohoots.com/foundation
WOMEN WHO STARTUP
Women Who Startup is a learning platform for a global community of Female Entrepreneurs and Innovators. By becoming a member, each woman in our community gains access to education, monthly Basecamp events, quarterly pitch fests, collaboration on WWS Connect, Live slack events, mentorship and real-time support from peers. At each Basecamp, we shine a spotlight on a female entrepreneur or innovator from the local community and open up the conversation to all members in order to share valuable insight, real-life stories and actionable information. The Women Who Startup community is the engine that will help you go from idea to market, to launching and growing innovative companies. Female entrepreneurs and innovators, join us.
Learn more at: https://womenwhostartup.com